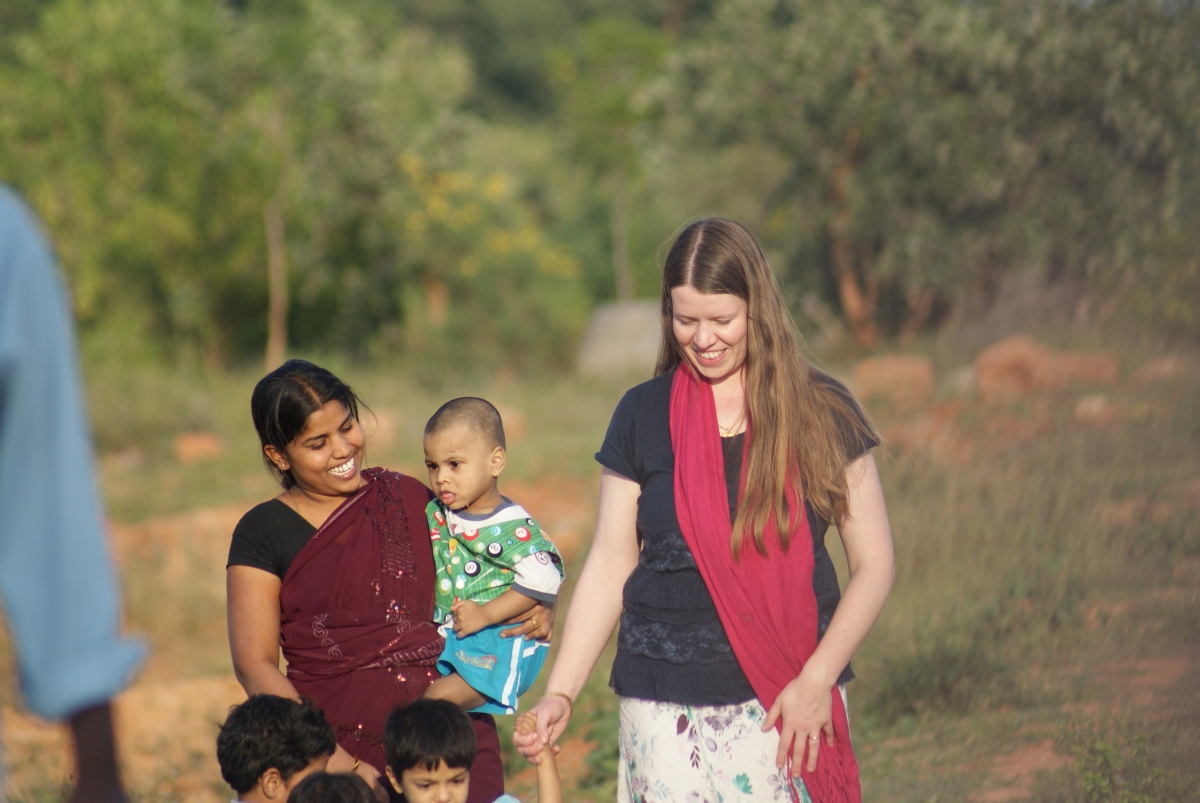 Turning Compassion into Action
The first project run by Fountain of Life Ministries was starting literacy schools in the tribal villages. Shortly afterwards, in response to massive demand, Sundar and Sarah opened their first sewing centres. The charity began supporting widows, running children's clubs and other projects to give real, tangible help to local, tribal people in need.
In 2010, Sundar and Sarah opened the Home of Hope, which is designed as a family home to care for abandoned or orphaned children. This began a whole new aspect to Fountain of Life's ministry, as we raise and nurture these precious children.
The next big step has been purchasing a large area of farmland, in the middle of the 64 tribal villages Fountain of Life Ministries works amongst. The Promised Land is already being farmed and the team are fundraising to install a children's playground here.
Our Story
Reaching the Unreached with a Message of Hope
Reaching the Unreached
Growing up in India, Sundar was deeply moved by seeing desperately poor people with nowhere to turn for help. They lacked crucial needs such as access to education, health care, clothing and clean drinking water.
Sundar returned to India, whilst training in the UK, and found it even more devastating and heart breaking to see so many poor people struggling.
'What does the Lord require of you? To act justly and to love mercy and to walk humbly with your God.' (Micah 6:8)
Both Sundar and his wife Sarah felt moved by compassion and knew that to help reach those most in need, they had to take action.
Together they founded Fountain of Life Ministries in 2003. Their vision was to care for the the most poor and vulnerable people, living in the rural, tribal villages of Southern India. These villages are cut off from many services and forsaken by outsiders, who were still influenced by the caste system of India.
A Message of Hope
"It is such a joy being part of these rural communities and sharing their lives. We are continually encouraged by seeing the hundreds of smiles in response to our help.
"From being involved with very poor families I have seen their hardship and know how difficult life can be. My determination and passion for helping the poor led to founding this organisation and inspires me to keep going, no matter the challenges faced.
"I urge you, please stand with us in our journey to help the poor, to make their lives better, to make a difference and to give new hope." Sundar Pinninty
The vision of Fountain of Life Ministries is to make sustainable change for future generations. To continue our projects, we are especially in need of more regular financial support as this is essential to the consistent, planned running of the ministry.
Relief
To relieve poverty and hardship, to show compassion and to extend practical help and assistance to all those in need, with a particular focus on vulnerable groups such as tribal people, abandoned children, the elderly, widows, and the sick.
Training
To provide training in the fields of literacy, sewing and other practical skills, and to also provide training in Christian faith and leadership, with the potential for education in other areas as becomes appropriate.
The Fountain of Life
God spoke to us as we returned from our first trip together to India, in Autumn 2003. Sarah and I were reading Psalm 36, where it describes our God as 'the fountain of life, the light by which we see.'
Where we live in the beautiful Peak District there are many springs and streams of fresh crystal clear water that flow down the mountains into the valleys, sparkling in the light. They refresh the land and make everything new; pure water that cleanses, vibrant water that gives life.
When the Samaritan woman sat at the well with Jesus, he told her "whoever drinks the water I give him will never thirst. Indeed the water I give him will become in him a spring of water welling up to eternal life."
After praying for years about what to name the ministry, God has put this on my heart. He is the Fountain of Life and He calls us to be vessels for his living water.
While we serve and love the tribal villages with many practical projects and physical care, ultimately the greatest gift we bring is Jesus.
May many thirsty people come to Jesus, to receive new life in Him and never be lacking again.
Sundar and Sarah Pinninty
Founders of Fountain of Life Ministries
Sundar and Sarah founded Fountain of Life Ministries in 2003. Sundar directs the charity's operations, while Sarah works as a GP. They have three sons, Timothy, Isaac, and Ethan. Together they live in the UK, in the beautiful Peak District. Sundar and Sarah head up the organisation as a UK registered charity, as well as initiating and overseeing the projects on the ground in India, taking trips there three to four times a year.
Phil, pictured here with his wife Sally, is a trustee of the charity and has visited our projects in India several times. He is an elder of his church and works with the highways agency. He really enjoys speaking in India.
Alison's nurturing presence is always a blessing to the children at the Home of Hope. Alison is a nurse and is kind, compassionate and always goes the extra mile to make the children smile.
Graham is a senior pastor in the North of England. His wife Ruth leads and conducts a choir that has helped fundraise for Fountain of Life Ministries. They have been out to India and have a special fondness for the children and ministry.
The Tromans are a talented couple who have blessed our ministry with their giftings of design. They have contributed to designing the newsletter, logo and architectural plans for the Home of Hope. Phil is also a trustee.
Richard designed our new logo/branding and produces all our literature. He leads the worship in his local church in the West Midlands, UK. Outside of work and ministry, Richard loves spending time with his wife and daughter, enjoys travel, music, history and football.
These dashing chaps are Sundar and Sarah's three sons, Timmy, Isaac and Ethan. The boys have visited India many times and have been emersed in Indian culture since they were tiny. They bring a lot of liveliness to family trips!
Rev. Swamy Das and Esther
Swamy Das overseas the Home of Hope and is a pastor of 3 churches. Esther his wife helps with the smooth running of the Home of Hope and pastoral ministry. They are a godly couple with years of experience whose wisdom and input are essential to the work.
Ujwala serves on the India board, she is one of the pastors' wife of a mega church of around 6000 people. She is a great worship singer and a mother of two children and brings her natural maternal care to the organisation.
Sudarshan is a Baptist minister. He comes from one of the churches we serve but he settled in the city, looking after his church. He serves on the Indian board of trustees.
Sowmya is a very kind hearted lady, serving on the Indian board as a treasurer. Sowmya brings her expertise to examine the children when she visits. It's such a blessing to have her on the team.
A professional couple now involved in oversight of the Home of Hope. Sundar has a background managing another larger charitable organisation and Sowmya is a doctor.
Ramesh is one of our maintenance staff. He has a wife and three teenage children. He is a great handyman and also oversees our site of land where we have some market garden projects.
These ladies are really hard working. They not only do their job competently and diligently but they love and care for the children, in their words, 'as if they were our own'. We are so grateful for them.
Nagaraju is a good and reliable driver of our small 7 seater vehicle. He is married with two small children. He is very committed to his job and drives very carefully on difficult and busy Indian roads!